49 Best Places to Eat in Asheville NC – A Food Bucket List
Asheville is known for its breweries, but it's also become a mecca for foodies. The city is growing so much (and quickly) that it's difficult to keep up with the new restaurants, but we made a list of the best of the best places to eat in Asheville NC.
Many of these restaurants have proven themselves year after year, but we've also sprinkled in some who are up and coming. The list has a mixture of both fancy, high-end dining and cheap eats. The best part? You can come as you are without having to worry about getting dressed up.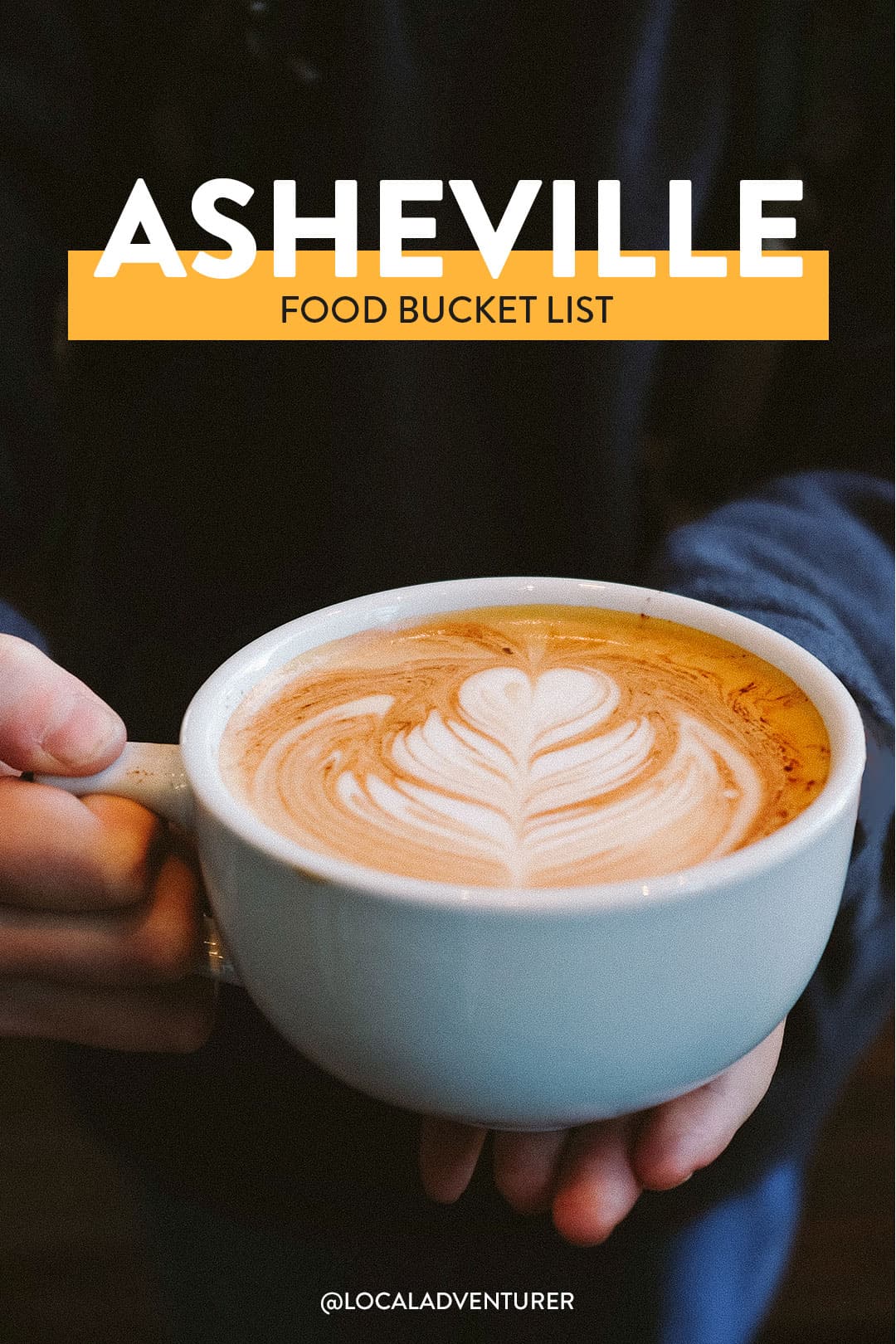 This post may contain affiliate links, where we receive a small commission on sales of the products that are linked at no additional cost to you. All opinions are always our own. Read our full disclosure for more info. Thank you for supporting the brands that make Local Adventurer possible.
Last Updated: January 20, 2020.     Originally Published: Dec 6, 2016
49 BEST PLACES TO EAT IN ASHEVILLE NC – FOOD BUCKET LIST
 Hole Doughnuts (pictured below) – Best Dessert in the Country, 2016, by Bon Appetit. Fried to order!
 The Admiral – Amazing thick cut pork chop (order it cooked medium) and scallops.
 Sunny Point Cafe – Chipotle grits, maple pepper bacon, everything here is a hit!
 OWL Bakery – Raisin flax bread, moist and loaded with raisins.
 Buffalo Nickel – Gnocchi with mushrooms and Buffalo Nickel cocktail.
 Zia Taqueria – Grilled and baja fish tacos.
 Flora – Organic coffees and teas, fresh baked goods, botanical views
 Taco Billy  – Unique plantain tortillas, breakfast tacos are the best!
 Green Tea Sushi – Dancing shrimp roll, Asheville roll.
Gypsy Queen Cuisine – Fried cauliflower with tahini dressing & garlic aioli.
 Rocky's Hot Chicken Shack – Best chicken tenders in town.
 WALK (West Asheville) – Shrimp poboy, bread straight from Gambino's in Louisiana.
More: 101 Things to Do in Asheville
Downtown Asheville Restaurants
 Over Easy Café (Downtown) – Fluffiest pancakes around, oh my!
 Cúrate (Downtown) – Calamari Sandwich, paper-thin crunchy fried.
 Limones (Downtown) – Three cheese chile rellenos.
 Cucina 24 (Downtown) – Wood roasted vegetables. All of the vegetable dishes here are top notch. Also, distinctive cocktails.
 Mamacita's (Downtown) – Carnita taco, simmered with smoky peppers.
 Little Bee Thai (Downtown) – Panang Curry.
 Mela Indian Restaurant (Downtown) – Saag paneer and kozi milagu chettinad.
 Chai Pani (Downtown) – Okra fries that are habit forming.
 Sovereign Remedies (Downtown) – Pimento cheese puffs, light as air.
 En La Calle (Downtown) – Small plates, everything on the menu is fantastic! Superb cocktails.
Rhubarb (Downtown) – On Eater's essential Asheville restaurants. Contemporary Appalachian cuisine.
 French Broad Chocolate Lounge (Downtown) – Ganache based drinking chocolate and a dizzying array of truffles, all made from bean to bar or brownie or pot de creme.
 Table (Downtown) – Thick and rich chocolate budino.
 Zambra (Downtown) – Pan seared local trout, small plates, romantic dining.
 Jerusalem Garden (Downtown) – Baba ganoush, you will lick your plate clean.
 Red Ginger (Downtown) – Pork dumpling in shanghai style, dan dan noodle.
 Heiwa Shokudo (Downtown) – Altenderfer roll with tempeh, avocado, and maple almond butter.
 Farm Burger (Downtown) – No. 1 burger and The Superfood Salad. They also have a brewery downstairs.
 The Montford Rooftop Bar (Downtown) – Hand-formed house tater tots and the Purple Potato Pie cocktail
 The Noodle Shop (Downtown) – Basil eggplant.
More: 25 Top Free Things to Do in Asheville NC
 Bull and Beggar (River Arts District) – Double cheeseburger and raw oysters to die for.
 All Souls Pizza (River Arts District) – Smoked shrimp pizza with fermented chiles.
 Grey Eagle Taqueria (River Arts District) – Carnitas arepa with smoky and super tender confit pork and the 39. Fiambre salad.
More: 25 Most Popular Instagram Spots in Asheville NC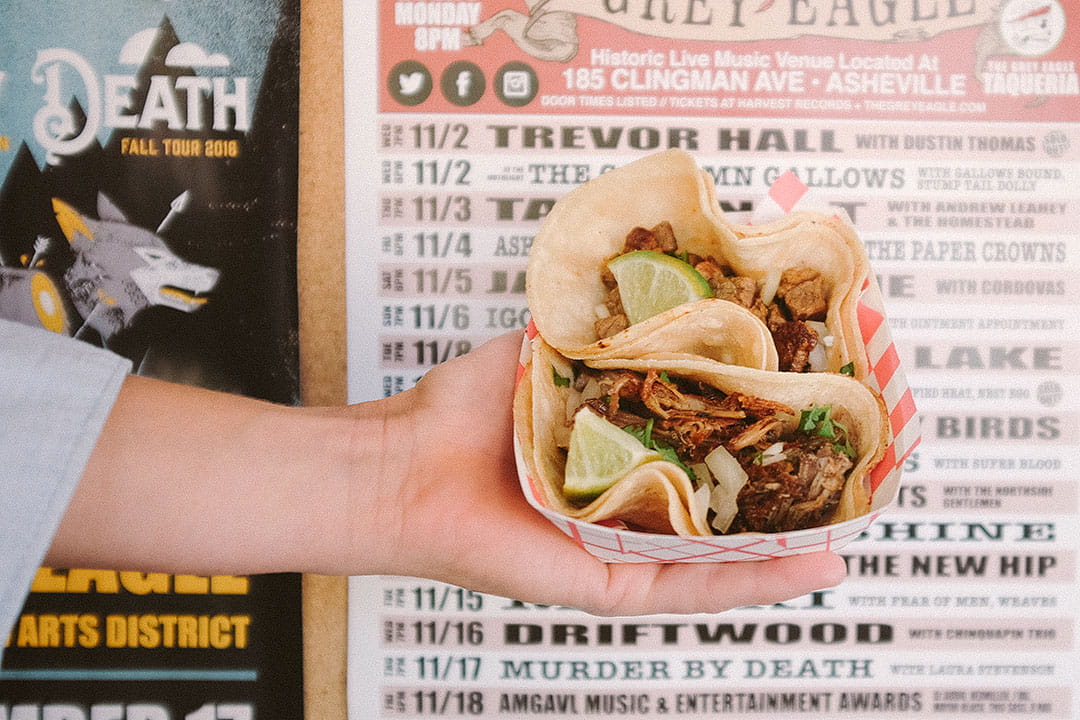 Smoky Park Supper Club (River Arts District) – Smoked Carolina shrimp, first shipping container restaurant of it's kind built with 18 containers!
 12 Bones Smokehouse (River Arts District) – Blueberry Chipotle ribs and collard greens and corn pudding.
 Ultimate Ice Cream (Grove Park) – Strawberry and coffee ice cream. These are full of flavor, not overly sweet.
 Edison Craft Ales + Kitchen (Grove Park) – On Eater's 10 Hottest New Restaurants 2017. North Carolina beers, local and regional flavors.
 Gan Shan Station (Grove Park) Black bean chicken + housemade pork dumplings.
More: 15 Best Hikes Near Asheville NC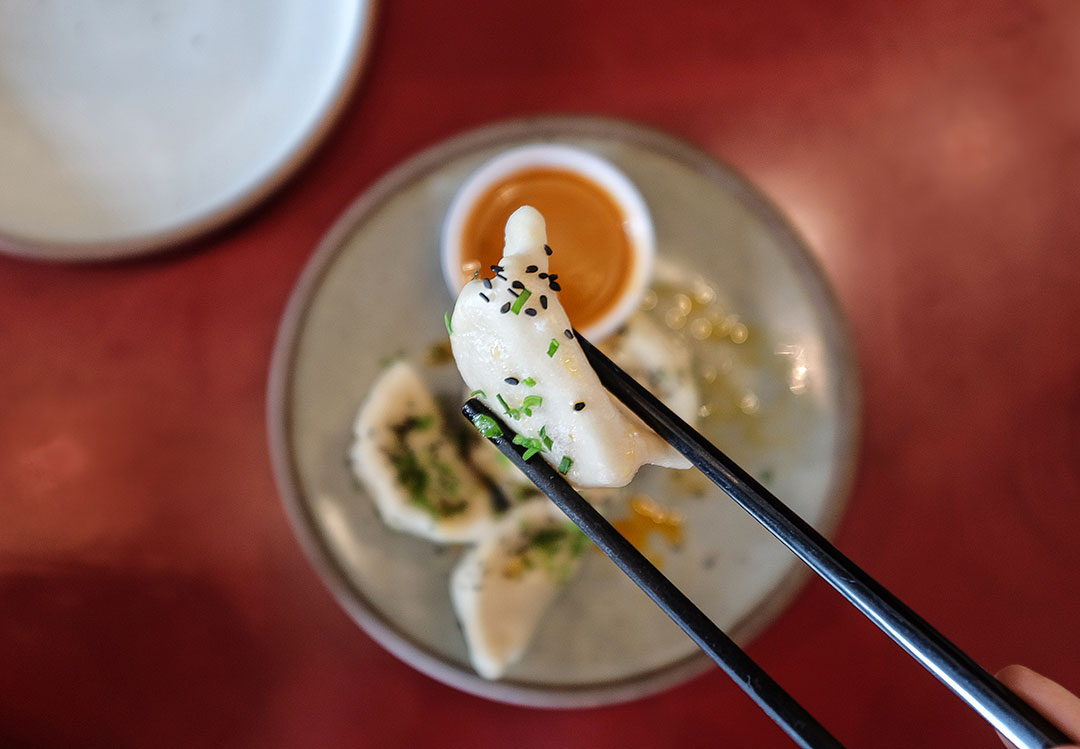 Farm and Sparrow Bakery (sold at All Souls Pizza and seasonal farmers markets) – Wood fired bread, house milled flour, and chocolate croissants.
 Buxton Hall Barbeque (South Slope) – Best New BBQ Joint, 2016, by Bon Appetit. Try the lightly smoked, then fried chicken sandwich.
 Salt and Smoke (South Slope- within Burial Brewery) – Mississippi Roast Sandwich, roll up your sleeves for this one.
 Wild Ginger (South Asheville) – Outstanding chicken pho.
 Plant (North Asheville) – Lasagna Cruda, Asheville's only fully vegan and vegetarian restaurant.
 Marco's Pizzeria (North Asheville) – Pesto pizza.
 Copper Crown (East Asheville) – Inventive, New American bistro.
 Moe's BBQ (Biltmore Village) – Smoked chicken wings and griddled cornbread.
 El Kimchi (location changes daily) – Spicy korean burrito and bi bam bap are the way to go.
Local Tip / Pro Tip / Note: dsfsdfsd
COMPARE PRICES ON AMAZON AND ___
More Places to Eat in Asheville NC – Honorable Mentions
Rosetta's Kitchen and The Buchi Bar – The Buddah bowl!
Nine Mile – Any salad with "His Majesty's" dressing.
The Hop – Salted caramel ice cream? Yes, please.
Where to Stay in Asheville NC
All accommodations listed have at least 4 stars on both Yelp and Tripadvisor.
The Inn on Biltmore Estate (luxury) – read more about our stay here
Grand Bohemian Hotel (luxury)
Black Walnut Bed & Breakfast Inn (mid-range)
Bon Paul and Sharky's Hostel of Asheville (budget)
PIN FOR LATER:
More: 15 Best Places to Stay in Asheville NC
Did we miss any on our list of best restaurants in Asheville?
Did you enjoy this post? Pin it for later
SEE MORE CITY BUCKET LISTS
ATLANTA BUCKET LIST
PDX BUCKET LIST 
CHARLESTON SC BUCKET LIST
LAS VEGAS BUCKET LIST
LA BUCKET LIST
NYC BUCKET LIST
SAN DIEGO BUCKET LIST
ASHEVILLE NC BUCKET LIST
ATX BUCKET LIST
NEW ORLEANS BUCKET LIST
ORLANDO BUCKET LIST
SAN FRANCISCO BUCKET LIST
SEATTLE BUCKET LIST
WASHINGTON DC BUCKET LIST
"Discovery consists not of seeking new lands but in seeing with new eyes" – M. Proust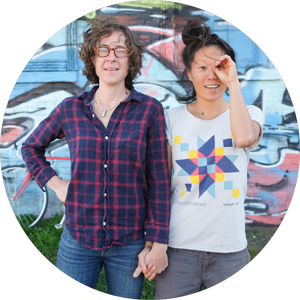 They are entrepreneurs and creatives who are good at finding adventure, both big and small, everywhere they go. The two have made a daily practice of sharing vulnerabilities, truth telling, and side splitting laughter. Both value being able to spend time getting to know a place but understand that life doesn't always allow one to really settle into a place. So, they've honed the art of travelling fast and seeing and doing all of the things that an adventurer can do in a day or two. The couple lives in Asheville, North Carolina and spend as much time as possible in the mountains.
The post 49 Best Places to Eat in Asheville NC – A Food Bucket List appeared first on Local Adventurer » Travel Adventures in NYC + World Wide.